Wireless Load Cell / Scale Interface

Model:

WSG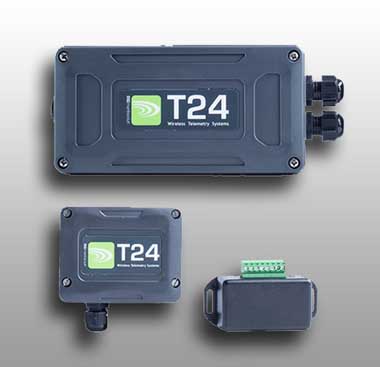 Request Quote
The Load Cell Central WSG series wireless load cell system enables convenient conversion of millivolt output signals from standard cabled sensors such as load cells, pressure, and torque transducers as well as from the 0-10 V and 0-20 mA (4-20 mA)outputs from sensors with these control signals.
The WSGx-1, supplied in a small enclosure (75.6 X 59 X 29 mm), uses two "AA" batteries, and is suitable for mounting directly on a sensor or in an application with little space available. The slightly larger (160 X 80 X 55 mm) WSGx-2, housed in an industrial enclosure, uses two "D" cell batteries, providing a longer battery life. Transmission distance is the same for either the WSGx-1 or WSGx-2: Up to 800 meters (2,600 feet, line of sight).
Setup and calibration is done wirelessly via a base station (T24-BSu or T24-BSi, below) connected to a PC or laptop running the provided software (included at no additional cost) for viewing and logging the data from the WSG units.
To complete the system, a variety of interfaces are available, from handheld displays to analog output devices. The compatible devices are listed below. One or more of the interfaces can be used simultaneously to receive data from a single WSG transmitter. For example, for a crane application: Display data remotely with the T24-HS and provide a relay output module with the T24-RMI, which in the event of an overload can sound an alarm and / or stop the lifting operation.
Brochures
Downloads
Base Stations
T24-BSu
USB connection
Desktop enclosure
T24-BSi
USB and RS232 / RS485 connection
Industrial Enclosure
Displays
T24-HS
T24-HA
Up to 12 inputs and summing
T24-HR
Selectable and scan / roam among an unlimited number of inputs
SERIALDIS
Single channel display (requires T24-SO)
Additional WSG Interfaces
T24-A01
Analog output 0-10 V, 4-20 mA, ± 10 V
Desktop enclosure
T24-A01i
Analog output
Industrial enclosure
T24-PR1
T24-RM1
T24-AR
Repeater for extended range or transmission around obstacles
T24-SO
Software
T24-TK
Setup and calibration software
T24-LOG24
Display and log up to 24 modules