WeightSense™ USB Load Cells

Model:

OMD-232-10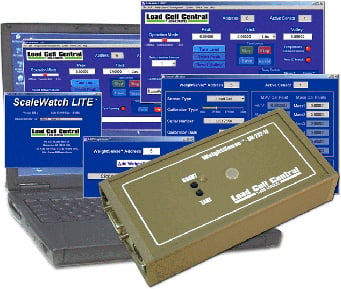 Request Quote
The OM-232-10 digital USB load cell conditioner is ideal for force measurement applications where the data must be recorded and/or viewed on a computer screen. The transducer data can be saved in a .txt file and easily opened in Excel so the information can be charted/graphed. Using the provided ScaleWatch Lite™ software, the force transducer (load cell), pressure sensor, or extensometer can be calibrated and ready to use in minutes.
The WeightSense™ product line uses TEDS-Tag® Auto-Identification which assigns a specific ID to a sensor, allowing the ScaleWatch Lite™ software to pull up the load cell's calibration data and serial number, providing plug and play operation after the initial setup. The unit can store calibration data for up to 3 sensors.
The OM-232-10 takes 60 readings per second for fast and 24-bit-accurate performance, true peak & valley readings capability, and a 16 bit analog output that accurately tracks the load cell signal. This can be used to drive chart recorders, remote displays, and/or transmitted to a PLC or central control room. The held peak & valley values of the input signal can be cleared by a push of a button in the ScaleWatch Lite™ software.
Also available is the OM-232-D USB load cell conditioner which is nearly identical to the OM-232-10 but features an integrated display.
Coming Soon!
Load Cell Central is currently working on a WeightSense™ wireless version to add to the OM series signal conditioners. Check back soon for updates and new products.
Brochures
Downloads
Features
60 Readings / Second for: True peak & valley readings
16 Bit analog output scalable to +/-10VDC
Easy setup
Direct to PC output via RS232 or USB using an adaptor
Toll Free Technical Support
Memory storage for 3 calibrated load cells
Internal 24 bit resolution
Options