Welcome to Load Cell Central, Your Source for Load Cells and Weighing Systems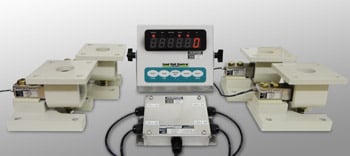 Load Cell Central will put your weighing systems application to work:
Load Cell Central is an industry leader in designing, building, and supporting custom and off-the-shelf equipment for electronic weighing systems and force measurement applications. We offer load cells, electronics, scales, mounting assemblies, hardware, and all the accessories you need. We also provide expert guidance, and creative, quality solutions before, during and after the sale.
Process control by weight, setpoint-mediated batching systems, ingredient cost control, subsea load cells, and center of gravity measurement are just a few of the challenges met daily by our seasoned, supportive sales technicians. Our load cell manufacturers, engineers and programmers provide services to the industrial, medical and aerospace communities, in addition to numerous other industries. We offer solid, carefully thought-out solutions that will streamline your operation, increase production, and strengthen your bottom line.
Specializing for twenty-seven years in custom load cells and force measurement / weighing systems and components, Load Cell Central can build virtually any custom application you require to keep you on the cutting edge of technology and profitability.
Based on requirements you describe via telephone, along with emailed drawings and specifications if needed, your application can quickly be turned into a weighing or force measurement system from components and subsystems directly from our inventory, or custom-built to order. Our staff is continually mindful of a high priority: Your convenience and satisfaction. We strive for the kind of precision, quality, and durability that spells long-term, worry-free operation--- all with prompt delivery and meticulous attention to detail.
Whether you require 2-kilogram moment-compensated load cells, industrial drum scales, crane scales, platform scales, million-pound pancake-style load cells, or electronics and software for custom force or weight-driven feedback control or data collection--- we've got you covered.
For your convenience, 24/7 technical support and emergency parts are available.
Our Load Cell manufacturers offer a wide range of stock and custom load cells, platform scales, and floor scales for your weighing and force measurement requirements. We also provide bolt-in-place weighing assemblies for tank weighing, batch weighing, and bulk weighing applications. Drum scales, crane scales and barrel scales, scale load cells, load pins, submersible load cells, load cell repair service, underwater load cells, and hermetically sealed load cells for hostile and corrosive environments are available in our industrial load cell section. Our inventory of specialty load cells, including RS232 load cells, S-Type load cells, and USB load cells is unmatched by our competitors.
Are you looking for digital indicators, load cell amplifiers, and the associated electronics and programming? We invite you to browse our web site, and use our convenient form to inquire about our wide variety of load cell display options, printers, junction boxes, mounting assemblies, load cell signal conditioners, load cell simulators, and hardware.
Relax-- Look no further -- Load Cell Central is ready to assist you. Load Cell Central continually strives to be the ideal vendor for your electronic scale and weighing system applications, purchases, and after-sale support.
We manufacture, source, and repair load cells and components for a wide variety of existing industrial weighing equipment. Custom machining is available to eliminate any difficulties interfacing with existing equipment. Plus, we stock a large selection of wireless systems, including wireless load cells and wireless scales.
Have a unique load cell application? An unusual configuration where standard load cells or even custom load cells cannot be used? There may well be existing, load-bearing parts of your machinery that we can gage and temperature compensate.
In addition to engineering assistance and custom load cell design, including software and load cell systems, Load Cell Central provides center of gravity / center of balance systems and structural truss load testing modules (Trusstest).
We offer complete weighing systems, calibration services, replacement load cells and scale parts for all brands. We have a large inventory and cross-reference database not only for all of our products, but also for your many spare parts requirements, including custom load cells, electronic scales, and for a wide variety of weighing systems. For hard-to-find or discontinued parts, Load Cell Central will search its inventory and affiliate inventories, check its special reserve stock of remanufactured parts, build new cells, or repair and calibrate your load cells.
Featured Products