433 433 Weighing Indicator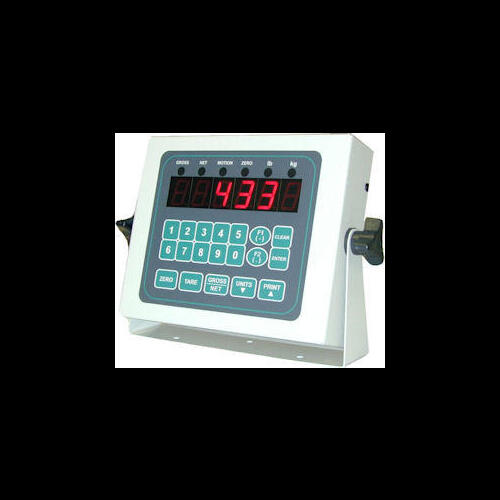 Features
1" tall 6-digit LED display
Full numeric keypad for easy data entry
Selectable 5-point calibration for improved accuracy
20-bit A/D with 60 samples/second conversion rate
Direct to PC/PLC output via RS232, RS485, or USB by using an adaptor
Powers up to 12 x 350 ? or 24 x 700 ? load cells
Digital port for relay control and remote operation
32K RAM provides 500 ID storage (part, truck, etc.)
Easy setup
Toll Free Technical Support
Reviews

There are no reviews yet for this product. Write a Review
Share this page
Load Cell Central's 433 has a rugged powder-coated steel enclosure (model 430 has a stainless steel enclosure). It is an industrial digital weight indicator that outlasts and out-performs any indicator in its class. The unique design of this indicator combines exceptional features with an affordable price. It features a large bright 6-digit LED display and full numeric keyboard with large keys to enhance and simplify operator interface. With its super fine sensitivity and 60 updates/second the LCC 433 delivers consistency and outstanding accuracy. With standard and optional features, and built-in modes of operation, the LCC 433 is a very versatile indicator for use in various industries and applications that range from basic weighing, material testing to more complex process control weighing and batching.
The LCC 433 is fully programmable in an easy and flexible macro language called Scale Basic™. In addition to the built-in modes of operation, Scale Basic allows you to customize the operation of the LCC 433 to meet your application requirements. The Scale Basic language provides various commands and functions that include: Math operations, I/O control, setpoints, timers, data entry, ID storage, message display, and program sequence control among others. Programming the IDS 433 can be performed through the keyboard or a PC using the optional EZ-LINK™ software that greatly facilitates setup and programming.
Brochures
Pre-Programmed Modes
MODE 0 - Normal
Basic gross, tare and net weighing.
MODE 1 – Fill to Setpoint
Single setpoint fill with relay output control and weight print.
MODE 2 - Over/Under Checkweigh
Provides 3 TTL outputs and 2 setpoints to indicate "Over", "Under" and "Between" weight conditions. Outputs can activate lights or alarms.
MODE 3 – Vehicle Weigh-In/Out with Totals
Weigh-In/Out program for up to 500 vehicles; Maintains running totals for each vehicle; provides reporting functions.
MODE 4 - Multi-Container/Axle Auto Weighing
Auto weighs and prints each weight placed on the scale; Each weight is sequentially numbered and accumulated; the total can be printed manually or automatically; provides traffic light control.
MODE 5 - Auto Axle Weigh (Long Scales)
Same as Mode 4 but previous axles are auto tared.
MODE 6 – ID Tare, Print and Total
Provides tare entry and recall by ID; prints ID, sequence # and GTN weights; keeps running totals by ID; provides reporting functions.
MODE 7 - Peak Hold Mode
Display or print the "Peak" value for the gross or net weight.
Options
Parts Counting
Parts counting and weighing program
Quick-Disconnect Kit
Amphenol type connector on the back of the indicator, includes mating connector
12-28VDC Operational
Low voltage power supply
Analog Output Module
Fully isolated 0-10VDC or 4-20mA; 16-bit resolution
Relay Box
4-channel external relay box model 8501
Relay Modules
Input/output solid-state (AC/DC) relays
Clock Module
Time and Date Clock
High speed (HS)
100 samples/second conversion rate; high-speed process control applications
EZ-LINK™
PC software; facilitates configuration and Scale Basic™ programming
IS Barriers
Hazardous location intrinsic safety barriers