920i Scale Batching Controller & Display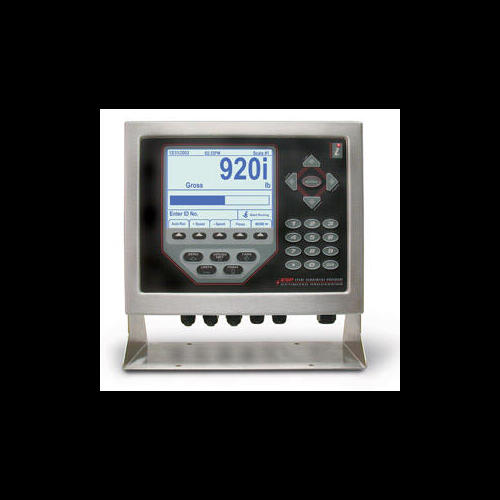 Features
Large backlit 4.6" W x 3.4" H LCD display
60 configurable operator prompts
Display up to 4 Legal for Trade scales on one screen or up to 8 for non-NTEP applications
Five soft keys for user-defined functions
Ten programmable display screens
Millivolt calibration, 5-point linearization and geographical calibration
Selectable A/D sampling rate up to 960/second
100 setpoints, 30 configurable setpoint types
Two slots for option cards
Peak hold
Rate of change
Toll Free Technical Support 1-800-LOADCEL
Reviews

There are no reviews yet for this product. Write a Review
Share this page
The 920i delivers more features, more programmability, and more power to your process. With its performance-driven architecture and customized display features, the 920i can take your weighing system further. The 920i offers the versatility of the universal, deep, panel mount, or wall-mounted style enclosures.
While graphic icons and messages show setpoint and function status, up to ten different screens can be programmed to change with any given process. The multi-channel display feature shows the weight on an individual scale or a combination of totalized scales. When used in batching/mixing applications, one 920i is capable of handling multiple scales, flow temperatures, and pulse inputs. It can control hundreds of I/O setpoints, queuing such things as gates, valves, and conveyors, often eliminating the need for a PLC and costly programming. Utilizing the complete database capabilities of the 920i allows you to store all your related data and files.
Load Cell Central has deployed the 920i for a variety of applications such as:
Finding the center of gravity of items being transported to the International Space Station
Monitoring 8 scales in a liquid refrigerant recycling facility
Displaying 10 load cell weights aiding in the manufacture of luxury yachts
Kiosk scale station for a batch-out application for two scales loading out to tractor trailers, with USB data logging and receipt printing
See the 920i brochure for full specifications.
Brochures
Options
Single- and dual-channel A/D cards
Single- and dual-channel analog output 0-10VDC, 0-20mA, 4-20mA
Low voltage power supply 9-36VDC
230VAC operational version
1MB NV RAM memory
Digial I/O, 24-channel TTL output
Pulse input
Serial port card, dual channel, RS-232 and RS-485
Analog input +/-10VDC, 0-20mA and thermocouple
Ethernet TCP/IP10/100 Base-T module (internal)
Ethernet TCP/IP wireless LAN card 802.11 B/G
Ethernet IP (specifically for A-B PLC)
Profibus DP interface
DeviceNet interface
ControlNet interface
2 and 6 slot expansion card
Sun shield
Fiber-optic board, installed in 920i
Start/Stop controls
Clear proctective overlay (package of 5)
There are many other options - Please see the 920i specification sheet for a full list.
Universal, Panel Mount, and Wall Mount Enclosures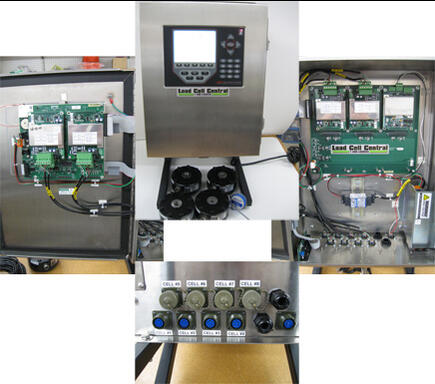 Customized Center of Gravity Load Cell System
920i with custom load cells, bar graph and weight display, and label printer with custom formatting