IPE50 Multi-Channel Load Cell Controller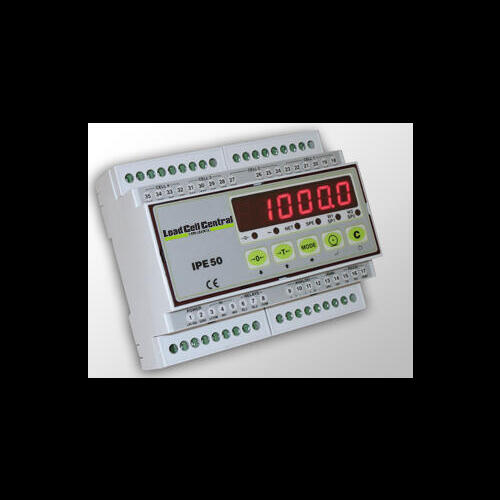 End-users and system integrators alike appreciate the IPE50 Load Cell Controller compact design, with its DIN rail mounting and 24VDC operation. This unique load cell controller can accept up to 4 load cell inputs, eliminating the load cell summing card needed in traditional weighing systems, saving space, time, and money. Alternatively, the load cell controller can be used as a multi-scale display, controlling up to 4 scales with a single indicator. Controller functions such as Zero, Tare, Print, and switching channels can be done by the keypad or with the bidirectional RS-232 / RS-485 / Profibus communications.
In this load cell controller, we've packaged a ton (907.1847 Kg!) of features in a small case, including analog output 0-10VDC, 0-20mA, 4-20mA, and digital communications including RS-232, RS-485 and optional Profibus for communication with PLC's. Two logical inputs and two relay outputs add yet another dimension to this multifunctional do-it-all device.
Controller Features
DIN rail mountable
16 Bit analog output 0-10VDC, 0-20mA, and 4-20mA
Easy setup
Direct to PC/PLC output via RS232, RS485, or USB using an adaptor
Toll Free Technical Support
Power up to 8) 350 ohm load cells
Internal 24 bit resolution
12-24VDC operational
Reviews

There are no reviews yet for this product. Write a Review
Share this page
Load Cell Controller Brochures
Downloads
Controller Options
Profibus Output to interface with a PLC
RS232 to USB adaptor
Data Storage Device (DSD)
115VAC Power Supply