WINOX2G Weight Batching Controller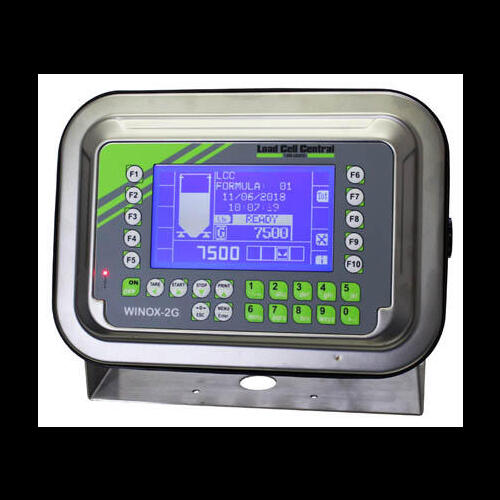 The WINOX2G weight controller has multiple weighing modes pre-installed: The "Base" mode for basic weighing, "Load" and "Unload" modes for applications such as bag filling, bulk tank filling or discharging, and the "3-6-14 Ingredient" mode for batching recipes. Other weighing controllers and digital displays are also available.
Features
IP68 Stainless steel enclosure
12 to 24VDC operational
(120VAC wall transformer provided on "P" type enclosure)
A/D converter 24 bit (16,000,000 points), 4800Hz
RS232, RS485 serial output
5 relay outputs
3 digital inputs (2 when ordered with analog output option
Reviews

There are no reviews yet for this product. Write a Review
Share this page
Pre-Programmed Weighing Modes
BASE MODE - Normal
Basic gross, Tare and net weighing / Parts counting / Totalizer / Checkweighing
LOAD MODE – Fill to Setpoint
Single ingredient setpoint fill with relay output control and onboard data logging.
UNLOAD MODE - Discharge to Setpoint
Unload to setpoint, relay control and onboard data logging
Up to 3, 6, or 14 INGREDIENTS MODE– Batching Scale
Automatic or manual batch weighing scale, relay control, store 99 formulas, and on-board data logging.
Options
Analog output - 16 bit isolated
0-20mA, 4-20mA, 0-10V, 0-5V, ±10V, ±5V
Panel mount ("Q" type enclosure)
Data transfer via serial port to PC (includes database software)
Storage of data to USB thumb drive (includes database software)
See the brochure for a complete list of options
Ethernet & Fieldbus Communication Options
CANopen
DeviceNet
Profibus DP
Modbus/TCP
Ethernet TCP/IP accessible via web browser
Ethernet IP
Profinet IO
Brochures

Optional Logging

Software Information