Model DSC ASCII, Modbus, MantraCAN Load Cell Interface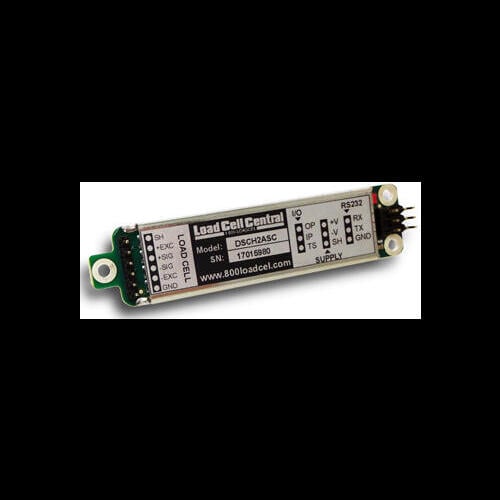 Digital load cells provide innovation for modern manufacturing processes that require dynamic weighing capabilities, high maximum capacity ratings and extreme accuracy. Digital load cells can be custom configured to meet the specific requirements of the application, they are highly versatile, and they provide long service life and improved reliability.
Features
Free easy to use setup and 24 channel logging software
RS232, RS485, or MantraCAN digital output
Toll Free Technical Support
Power up to 4) 350 ohm load cells
High speed, up to 500 updates per second
High performance, resolution of 1 part in 200,000 (18bit)
Peak and Valley recording
Reviews

There are no reviews yet for this product. Write a Review
Share this page
Industries from civil engineering, agriculture and marine to industrial processing and silo/weighing rely on digital load cells. They benefit from features such as enhanced error reporting for fault conditions, advanced software integration, and the ability to utilize multiple digitizer modules. Load Cell Central will help assess factors — including physical installation needs, communications protocol and output requirements — to direct you to the device best suited to your application.
The DSC series of load cell / scale digitizing units offer ASCII, Modbus, RS232, RS485, and MantraCAN outputs. This allows the DSC to connect directly to a PLC, computer, or other process control device. With up to 500 updates per second (streaming output) it is ideal for applications such as dynamic testing and high speed filling machines. It is easily intregrated into an OEM device by using the header pin connection points, or can be fitted into a single channel DSJ1, or a 4-channel DSJ4 field-attachable board, each one with an optional ABS IP65 standard enclosure or DIN rail mounted enclosure.or DIN rail mounted enclosure.
Brochures
Downloads
Associated Products
Model: DSJ1

Single channel field attachable break-out board for the DSC load cell transmitter.
Key attributes of the DSC include an ultra-miniature "puck" format to fit restricted spaces, along with adjustable sensitivity, temperature sensing and compensation, and linearity compensation capabilities. The DSC offers high-precision 25ppm-basic-accuracy and high stability 5ppm-basic-accuracy that exceed typical performance standards. Serial output, digital calibration, self-diagnostics and multiple output options provide additional user benefits.
Using the provided software, the force transducer (strain gage load cell), pressure sensor, or extensometer can be calibrated and ready to use in minutes. The freeInstrument Explorer software allows the user to configure and save the setup and calibration data to the PC.
Digital Load Cell Custom Design Services
Our broad capabilities in load cell engineering, manufacturing and technical sales allow us to meet your needs with customized solutions. We have the expertise to quickly assess your application requirements and recommend a tailored solution that's both innovative and economical.
Digital Load Cells and More
There are various strategic benefits for doing business with Load Cell Central — beyond the strength of our digital load cell product inventory and custom capabilities. These include:
Contact us today if you're ready to experience the Load Cell Central advantage. We'll help you find the cost-effective digital load cell solutions to maximize the productivity of your business.