Model OM-19 Load Cell Amplifier, ±10 VDC & 4-20mA Outputs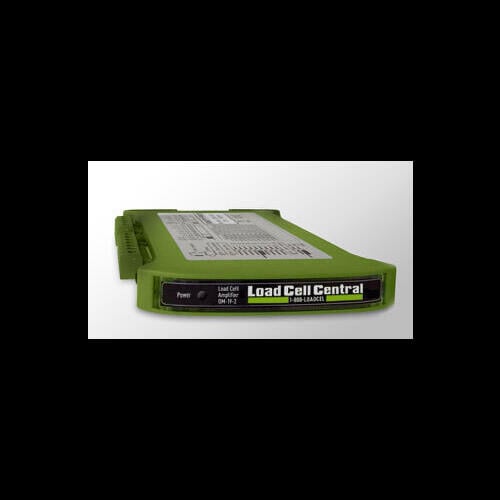 Load Cell Central's OM-19 load cell amplifier is the perfect solution for OEM applications that do not require a load cell display. 24VDC powered, this load cell amplifier is often paired with PLC systems, and provides an amplified load cell signal to 0-10V, +/-10VDC, or 4-20mA output. The OM-19 can power up to four 350 ohm strain gage load cells. The OM-19 load cell amplifier also features a shunt calibration switch, sense connections, excitation jumpers, and variable output rates from the factory. The OM-19 signal conditioner comes in several models, including OM-19-1 which is an OEM bare board version, OM-19-2 is DIN rail mountable, or OM-19-3 the fully enclosed version. Each version is also available with two optional configurable setpoints.
Features
The OM-19 load cell amplifier is able to run up to four strain gage load cells (350 Ohm)
4 or 6 wire load cell
Voltage output (±10 VDC or 0-10 VDC) and current ouput (4-20 mA)
Shunt calibration signal
2 variable setpoints optional on model OM-192S
Reviews

There are no reviews yet for this product. Write a Review
Share this page
See the video below for a brief overview and calibration procedure of the OM-19 load cell amplifier.
Brochures