Model TLE: Load Cell Amplifier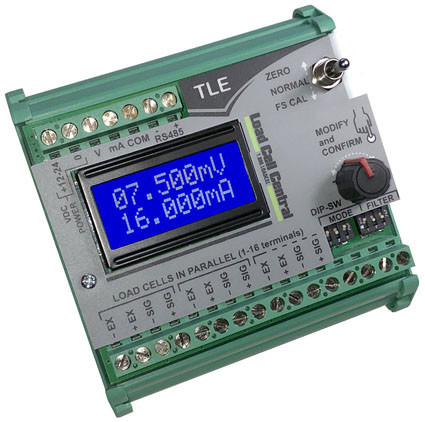 *Eliminate the load cell junction box.
The TLE load cell amplifier is the quickest and easiest device of its kind to set up and calibrate. Simply set the no load analog output, then flip a switch and adjust the full scale output with the rotary encoder and you are all set. The LCD display shows mV input from the load cell / scale, and the analog output going to your PLC or data acquisition system (does not display weight readings). This allows calibration and troubleshooting of the amplifier without the need for an electrician's multimeter.
Features
Din-rail mount
Easy setup
Adjustable filtering
12 to 24VDC operational
Display shows mV input and analog ouptut
Reviews
There are no reviews yet for this product. Write a Review
The 12-24VDC powered and DIN rail mounted TLE can easily go inside existing electrical enclosures, or Load Cell Central offers an optional enclosure with a transparent lid. Not only does it output 0-20mA, 4-20mA, 0-10V, 0-5V, ±10V, or ±5V, but it also has a RS485 ModBus output (outputs 0-200,000 counts for 0-10V).
*The amplifier has connections for up to 4 load cells in parallel eliminating the need for a load cell junction box in applications such as vessel weighing with self leveling materials such as a liquid or slurry (no corner adjustments). For applications requiring corner trimming, a load cell junction box can be used and wired directly to the TLE amplifier.
Brochures