Model T24-AO1 and AO1i Wireless Load Cell Analog Output Module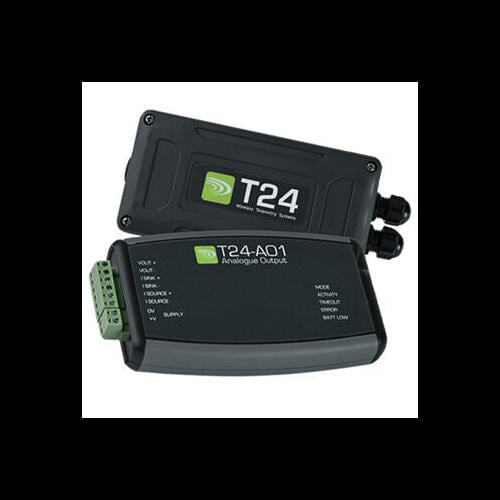 The T24-AO1 provides a configurable analog output for the range of T24 acquisition modules.
Features
Range of configurable analog outputs including 0-10 V, ± 10 V, ± 5 V, 0-20 mA, and 4-20 mA
Choice of enclosures depending on application
Simple configuration via PC using base station with Telemetry Toolkit software
Integrated antenna
1 year manufacturers warranty
Reviews

There are no reviews yet for this product. Write a Review
Share this page
The T24-AO1i is housed in an IP67 enclosure for industrial installation while the T24-AO1 is designed for desktop mounting with a reduced wireless range of 20 meters.
The output can be selected from the pre-calibrated voltage and current ranges. 0-10 V, ± 10 V, 0-5 V, ± 5 V, 0-20 mA, 4-20 mA. Both of the milliamp outputs can be used in a "sink" or source mode.
LED's in the T24-AO1 indicate of the states of the radio link, remote battery life, and remote status. The T24-AO1i uses open collector outputs to relay this information.
A digital input allows for zeroing of the incoming data value.
The T24-AO1 modules are easily configured by the T24 Toolkit and a base station.
Brochures