Model T24-HA Wireless Load Cell & Scale Display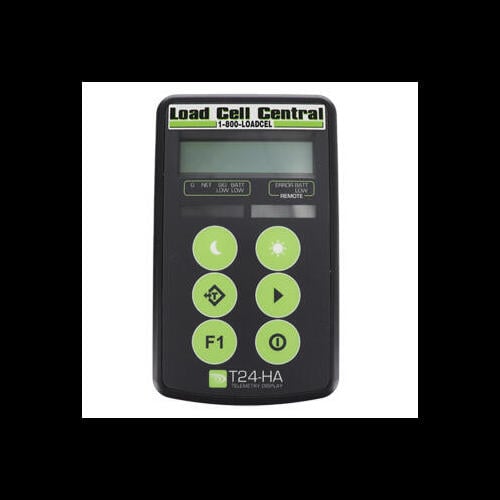 The T24-HA is an advanced handheld indicator with the ability to display data from up to 12 sensors / acquisition modules. It will display data from any of Load Cell Central's acquisition modules (strain, voltage, or current).
Features
Portable handheld display indicator for displaying data from up to 12 sensors
Very low power consumption for long battery life
Worldwide license-exempt 2.4 GHz radio
800 meter (2,600 feet) range maximum
Simple configuration and calibration via PC using a base station with Telemetry Toolkit software
Programmable wireless print capability
6 button tactile keypad and environmentally sealed to IP65
Reviews

There are no reviews yet for this product. Write a Review
Share this page
Brochures
This unit has an auto "off" function which can "power off" acquisition modules to extend battery life and reduce maintenance costs. The handheld will also power itself and acquisition modules "off" if no buttons are pressed in a specified period of time.
The wide operating temperature range and the robust technology ensures that the module is not susceptible to harsh physical or electrical environments. The module can operate in two modes:
Result Mode: This default mode creates a single result by summing up the values from up to 12 acquisition modules simultaneously as well as allowing users to view the discrete values that make up the result.
Item Mode: In this mode each acquisition module is treated as a separate entity and the T24-HA is used to cycle through all available items.