Model T24-HS Wireless Load Cell Single Channel Display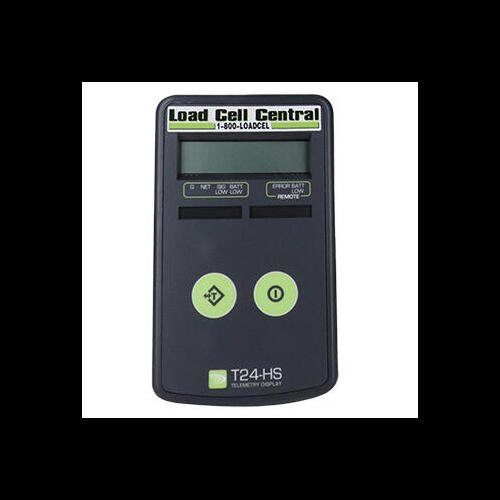 The T24-HS Handheld Display provides one-to-one data display from any of Load Cell Central's acquisition modules (strain, current, voltage). Input values are transmitted to the handheld via 2.4 GHz radio allowing users to view a digital reading at distances of up to 2,600 feet.
The handheld display can "power off" acquisition modules by a push of a button thereby extending battery life and reducing maintenance costs. If no buttons are pressed on the T24-HS, it too will turn off after 5 minutes.
A wide temperature operating range and robust technology ensure that the module is not susceptible to harsh physical or electrical environments.
Features
Portable handheld indicator for displaying data from one sensor
Ability to wirelessly power off the acquisition module
Two-button tactile keypad
Worldwide license-exempt 2.4 GHz radio
Up to 800 meters (2,600 feet) range line of sight
Environmentally sealed to IP65
Reviews

There are no reviews yet for this product. Write a Review
Share this page
Brochures