Model T24-SO Wireless Load Cell Interface, Serial RS232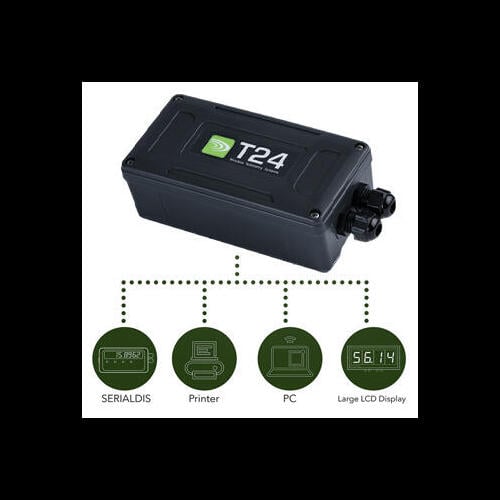 The T24-SO creates a serial output which can include data from up to eight T24 acquisition devices and optionally sum them. The output is suitable for connecting to a printer, serial display, or for feeding directly into a PC or PLC.
Features
Two-way radio system for data integrity
Wide operating voltage range
Worldwide license-exempt 2.4 GHz radio
Gather data from up to 8 remote acquisition devices
User-defined output
Up to 800 meter (2,600 feet) line of sight
Simple configuration via PC using base station with Telemetry Toolkit software
Reviews

There are no reviews yet for this product. Write a Review
Share this page
Brochures
The actual serial output can be designed by the user which can include free text or tokens which can represent real data, i.e. <V1> would be decoded as the value from input 1 when the output is triggered.
The serial output can consist of a single line of data suitable for feeding into an LED display module or a more complex, multi-line result that can contain a mixture of fixed and variable data suitable for tickets, receipts, etc., for printed output.
The serial output is fixed at 8 data bits, 1 stop bit, and no parity; RS232 and RS485 are supported. Baud rates can be selected as 9600, 19200, 38400, 57600, 115200, 230400, or 460800. The output can be triggered by an external digital trigger or by the arrival of data from a specific device.