Model X24-ACMi-SA Intrinsically Safe Wireless Load Cell Transmitter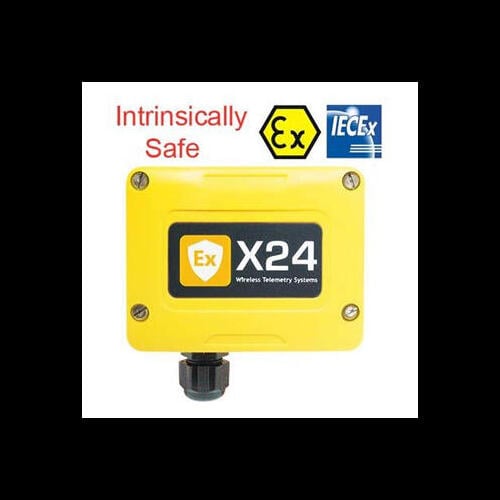 The intrinsically safe X24-ACMi-SA wireless load cell transmitter, for use in ATEX and IECEx Zones 1 & 2 hazardous areas, takes the millivolt output signal from standard cabled sensors such as load cells, pressure transducers, and torque transducers. It transmits the readings to our handheld receiver X24-HD in a hazardous area, or any of our T24 receivers in a safe area.
The X24-ACMi-SA, supplied in a small enclosure (80 X 62 X 34 mm), uses two Lithium Energizer L91 AA batteries, and is suitable for mounting directly on a load cell, and where little space is available. Transmission distance is up to 800 meters (½ mile, line of sight).
Calibration and setup is done in the safe area wirelessly via a base station (T24-BSu) connected to a PC or laptop running the provided software, which also allows the user to view and log the data coming from the X24-ACMi-SA units.
One or more of the receivers can be used simultaneously to receive data from a single X24 transmitter. For example, a single X24-ACMi-SA can transmit data to a X24-HD handheld display in the hazardous area and to a T24-AOi analog output receiver in a safe area, allowing the user to view the display on the handheld remote and transmit a 0-10V or 4-20mA signal to a PLC.
Reviews

There are no reviews yet for this product. Write a Review
Share this page