Marine Industry
Whether suspended above the rolling tide or submerged beneath the brackish sea, Load Cell Central's submersible load cells and electronics have been used in offshore and subsea applications for decades, meeting the unique challenges of marine weighing and force measurement. We've supplied subsea load cells for depths up to 5,000 meters at various capacities, quantities, and configurations. We also provide optional submerged pressure testing to simulate the maximum depth rating of the sensor under test.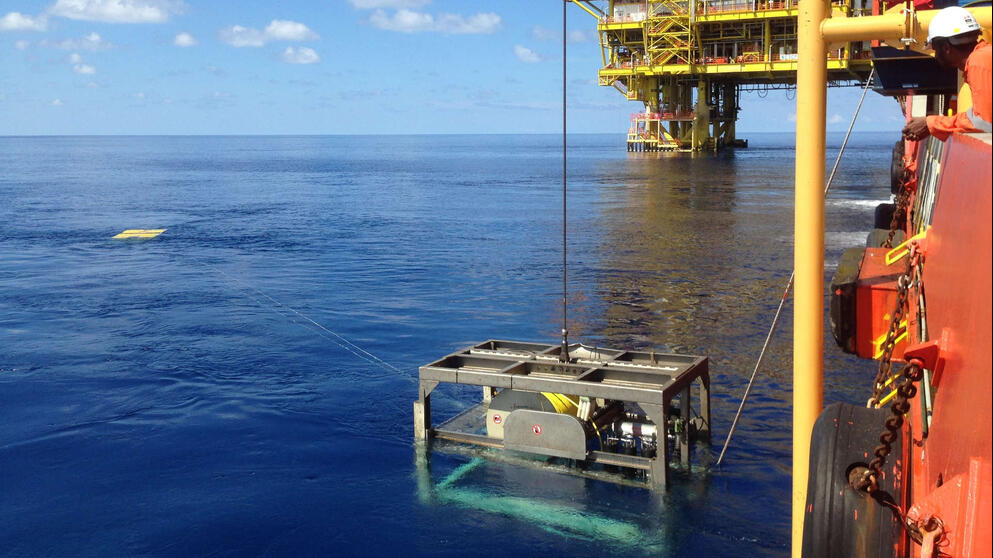 Subsea tension applications commonly use tension links and load pins, and depending on the application requirements, the load cell cable can be run to the surface to interface with our electronics or connected at depth to a data logger or acoustic modem for communication to the surface.
Our submersible load cells measure the buoy anchor forces to monitor storm surges and for tsunami early warning systems. Other applications include monitoring rope tension on racing sailboats, measuring force on anchors for salmon farming cages, as well as:
Mooring Tests
Salvage Operations
Winch Line Tension
Dredging Line Tension
ROV Umbilical Tension
Crane / Hoist Overload Protection
Dam Flood Gate Cable Load Monitoring
Case Studies
For a number of years we have been working with a dredging company who rely on our experience for many different applications. Regulations require this company to monitor many different forces on their cranes. Monitoring the tension on the wire rope ensures that overload conditions are corrected immediately or avoided altogether. We supply tension link systems or load pins, employing passivated stainless steel to prevent corrosion. Certain applications required wireless solutions, for which we used our T24 telemetry system.
In 2001 we were approached by a company that provides equipment to oil rigs in the Atlantic Ocean. The application was to measure the forces applied to the hull frame of an offshore oil rig. The forces acting on the rig are in the range of 5 million pounds, and are measured at four points. We designed a tension/compression canister for each point with a maximum capacity of 1.5 million pounds. Because the rig requires 24/7 uptime for months at a time, we engineered the cells with a dual bridge, for extreme reliability. The exterior of this load cell is a dual stud with 7.5-2 threads. This load cell also included quick disconnects, and four tapped holes for lifting. A 2 million pound capacity was later introduced.