Beam Load Cells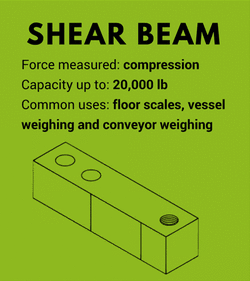 Beam load cells account for a large portion of all load cell weighing systems. Incredibly diverse, beam load cells are capable of replacing the load cells in an existing system, or for creating a new application. Built using alloy or stainless steel and environmentally sealed to IP67 or hermetically sealed to IP68, our beam-style load cells are ready for even the most corrosive environments.
Shear Beam Load Cells
Shear beam load cells are by far the most popular beam load cell available. Shear beams are used almost exclusively for floor scales due to their low height requirements and high capacity options. Standard single-ended shear beams are available in capacities as low as 100 lbs and as high as 10,000 lbs. When a single-ended shear beam is not up to the task at hand, our double-ended shear beams fill the gap. Standard capacities for double-ended shear beams range from 1,000 lbs to 75,000 lbs. Single and double-ended shear beams are also used regularly for vessel scales in batch weighing applications, conveyor scales, and OEM products. Read More
For capacities too low for single ended shear beams, bellows beam load cells can fill the gap. Available in capacities from 100KG to 500KG, bellows beam load cells are ideal for low capacity vessel weighing. Bellows beam load cells come standard as stainless steel, hermetically sealed load cells.
Our Duramount series of load cell mounts makes the installation process easier and more reliable, and ensures your load cells are weighing properly.
Our beam type load cells are provided standard with 20 feet of 4 conductor shielded cable. Custom cable lengths are available.
When coupled with one of our indicators, signal conditioners or load cell amplifiers, the options become endless. Whether you are batch weighing, parts counting, or building a center of gravity system, our beam load cells are ready for your application, and with our trained technical support staff you will be taken care of. Available 24/7 to solve your scale problems, Load Cell Central will ensure you receive not only great pre-sale consultation, but full after-sale support as well.
Contact us for a quote today.