Model HBBG: Stainless Steel Load Cell Hermetically Sealed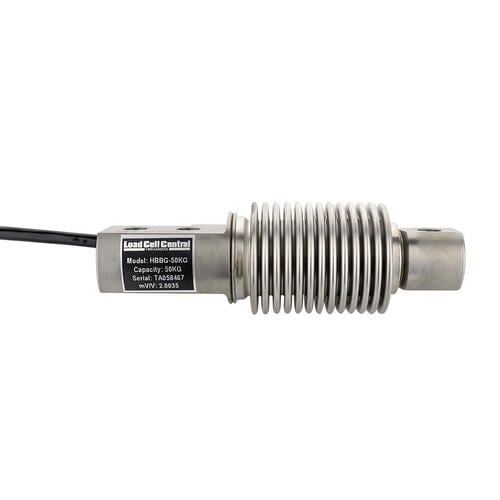 The HBBG load cell is designed for harsh industrial applications such as food, chemical, & pharmaceutical industries. The strain gage area and electronic components are covered by the stainless steel bellows to provide an IP68 protection class rating.
When used with the Duramount 31 weighing assembly the HBBG is ideal for low capacity belt scales and hopper scales.
Standard output is 2 mV/V (for example, 20 millivolts full scale with 10V excitation), making it compatible with a wide variety of signal conditioners (for interface with a PC, PLC, or data recorder) and with standard strain gage digital displays.
Brochures
Capacities
20, 30, 50, 100, 200, 350, & 500 KG
Reviews

There are no reviews yet for this product. Write a Review
Share this page
Dimensions
Capacity
(kg)
Dimensions MM (inches)
d
D
H1
H
20 - 200
8.2 (0.32")
23 (0.91")
20 (0.79")
20 (0.79")
350 - 500
10.3 (0.41")
24 (0.94")
19 (0.75")
20 (0.79")