Model LCS9: Single Ended Shear Beam Load Cell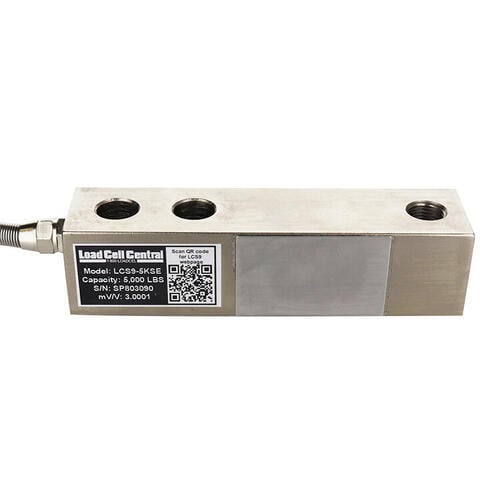 Load Cell Central's model LCS9 is designed for multiple load cell applications such as industrial floor scales, barrel scales, or medium and low capacity vessel weighing applications. The LCS9 is constructed of a nickel plated high alloy tool steel and fully potted to IP65 to protect from water and moisture damage. Available in stainless steel and hermetically sealed. When used with our Duramount 3E mounting assembly the LCS9 shear beam load cell is the ideal choice for vessel weighing and batching systems.
Interchangeable with 5123, 65023, 30310
Capacities
(lbs.) 1K, 2K, 2.5K, 3K, 4K, 5Kse, 5Kle, 10K, 15K, 20K
(kg) 250, 500, 1000, 1500, 2000, 2500se, 2500le, 5000
Reviews

There are no reviews yet for this product. Write a Review
Share this page
Brochures
Specifications
Output:

3 mv/V ± 0.25%

Combined error:

0.025%

Non-Repeatability:

0.01%

Creep (20 minutes):

0.03%

Zero Return (20 minutes):

0.03%

Thermal Sensitivity Shift:

0.0015%

Thermal Zero Shift:

0.0026%/ ºC

Comp. Temp. Range:

-10ºC to +40 ºC

Operating Temp. Range:

-40 ºC to +65 ºC

Zero Balance:

± 1%

Input Resistance:

385 Ohms ± 3 Ohms

Output Resistance:

350 Ohms ± 3 Ohms

Insulation Resistance:

>2000 Megohm

Full Scale Deflection:

< 0.5 mm

Recommended Excitation:

10 V

Maximum Excitation:

15 V

Safe Overload:

150%

Ultimate Overload:

300%
Cable Specification
4 Conductor with drain wire, #22 gauge braided shield & polyurethane jacket, ends stripped & tinned.