Canister Load Cells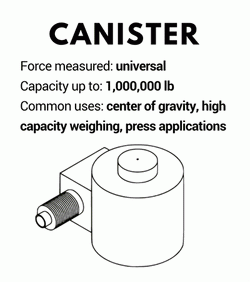 Precision machined for accuracy and reliability, Load Cell Central's canister load cells are often used in truck scales, vessel weighing, and press applications. Canister load cells are desirable when medium to high capacities and high accuracy are required. Standard capacities are available from as low as 25,000 lbs to capacities as high as 200,000 lbs. Load Cell Central can also build custom canister load cells using stainless steel or alloy steel in capacities of well over 1 million pounds. Read More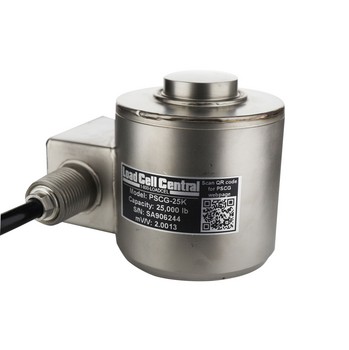 Standard with either integral cables or connectors, and hermetically sealed to IP68, our canister load cells are ready for the harshest environments. Our custom canister load cells are available with integral signal conditioners providing any output you require including but not limited to: 4-20mA, 0-5VDC, 0-10VDC, +/-10VDC, RS232, RS485, or USB.Canister load cell mounts are available allowing these load cells to be used in multi-cell applications such as truck scales or vessel weighing.
When used with one of our indicators, signal conditioners, or load cell amplifiers, our canister load cells are ready to interface into your existing system, or new application.
With our 24/7 technical support, our sales technicians are always available to get you back up and running.
Contact us for a quote today.