Model DSLC: Submersible Load Cell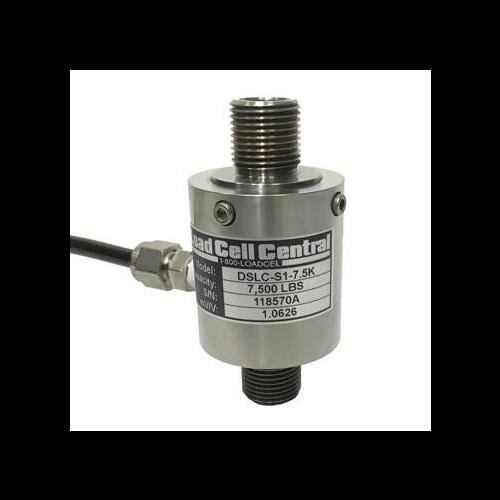 The DSLC submersible load cell is designed for underwater applications up to 300' (91 meters) deep. The stainless steel construction and waterproof load cell design make it ideal for low capacity mooring tests, subsea salvage operations, and ROV umbilical monitoring.
To facilitate subsea applications requiring the load cell electronics to be at depth — with the signal transmitted to the surface by an acoustic modem, the DSLC load cell is built standard with a 25' integral cable. For applications in which the load cell millivolt signal must be available at the surface, we can manufacture the submersible load cell with a longer cable. The DSLC has 5/8"-18 or 3/4"-16 (depending on capacity) male threads top and bottom; optionally we can build the load cell with female threads or metric threads if required.
Load Cell Central offers compatible load cell electronics for the DSLC, from a simple LED display to amplified outputs such as 0-10VDC or 4-20mA, and digital signals including RS232, RS485, or USB.
Capacities
(lb) 500, 1K, 2.5K, 5K, 7.5K
Reviews

There are no reviews yet for this product. Write a Review
Share this page
Brochures