S-Type Load Cells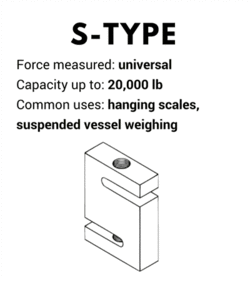 An S load cell is a readily available and economical solution for force and weight measurements in the industrial, commercial, or medical fields. Load Cell Central's S-Type load cells come in many varieties. Suitable for use in tension or compression and available in materials like aluminum, alloy steel, and stainless steel, our S-Beam load cells are ready for any environment. With standard capacities as high as 20,000 lbs and as low as 50 lbs, our S-Type load cells are a good fit for most low or medium capacity applications. These load cells, such as our XTS4, come standard with an integral cable or with a connector and custom cable assembly with our JQRT. Custom cable lengths are also available. For even the most specific and demanding requirements, Load Cell Central can and will provide the ideal S-Beam for your needs. Read More
Load Cell Central's S Beam load cell is used in many applications ranging from the tank, hopper, or vessel applications often associated with batch weighing, to crane scales or weighing suspended platforms like truck scales.
Hardware for S type load cells is in stock and ready to ship. With a complete selection of rod ends, eye bolts, spherical load buttons, thread adapters, isolators, wire rope cable assemblies, and eye nuts, Load Cell Central will make sure you are provided with an optimum setup for your S-Beam system.
When coupled with any of our electronics, our S load cells become a valuable resource for your system, integrating seamlessly into your everyday processes. Load Cell Central's s beam load cells will reduce down time, improve efficiency, and increase profits. Included with all sales is our 24/7 technical support that won't leave you hanging. We take great pride in our pre-sale consultation and after-sale support.
Contact us for a quote today.