Square Load Cells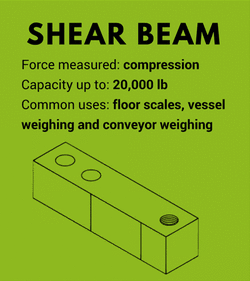 Thanks to their shape and reliability, square beam load cells are the most popular choice for a large percentage of load cell systems. Due to their versatility, beam load cells can replace load cells in an already existing system or be used in custom-designed systems.
Available in alloy or stainless steel
Environmentally sealed to IP67 or hermetically sealed to IP68
Can be used in wet, dusty, corrosive, and other harsh environments
Shear beam load cells are the most widely used mid to high capacity beam type load cell. Accurate and reliable, shear beam load cells are a popular choice for vessel and conveyor scales used in batch weighing applications With a low height requirement and high capacity, shear beams are also ideal for use in floor scales.
With capacities ranging from 100 lbs to 10,000 lbs, standard single-ended shear beams are suitable for most applications. For higher capacity weighing, our double-ended shear beams are available in capacities from 1,000 lbs to 75,000 lbs.
For easier installation and more accurate results, our selection of load cell mounts are available to fit all of our shear and bellows beam load cells. All of our square beam load cells come standard with 20 feet of 4-conductor shielded cable. Custom cable lengths are available upon request.
Contact us for a quote today.