Tension Link Load Cells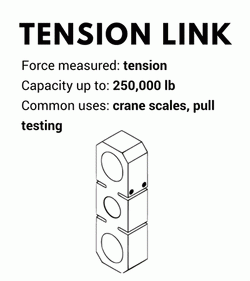 Tension link load cells are the go-to option for many tension applications including, but not limited to; Crane scales, pull testing, high wind structure testing, equipment rigging, and safety load monitoring. Made from alloy steel or stainless steel, Load Cell Central's tension link load cells are ready for even the harshest environments. If cost is a concern, nickel and zinc plated alloy steel models are available for the best value between cost and environmental protection. All our models are IP67 and suitable for outdoor use. Custom versions of these tension load cells can be hermetically sealed to IP68 specifications for ultra-wet environments. Call us for help in designing a custom submersible tension link for your application. More information can be found on our submersible load cells page.
When paired with shackles and one of our indicators, signal conditioners, or load cell amplifiers, our tension link load cells are ready to interface into your existing system, or new application.
Our tension links are available with a wide variety of options, from submersible to custom outputs like 4-20mA, 0-5VDC, 0-10VDC, RS232, RS485, USB, and more!
With our 24/7 technical support, you can be sure our sales technicians are available to take your call at all hours. Load Cell Central will assist in improving efficiency and reducing down time.