DM-7-S3: DURAMOUNT 7-S3 - Vessel Weighing Mount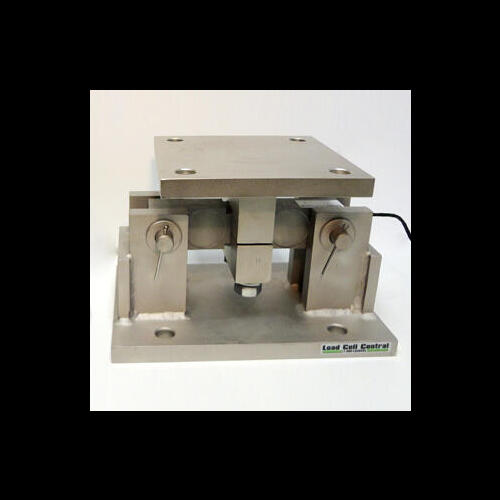 The Duramount 7-S3 combined with the DES7 plated alloy steel, or the stainless steel and hermetically sealed DESX double ended shear beams, provides a low profile, sealed weighing assembly ideally suited for medium to high capacity tank and hopper scales and all types of process weighing/control in most types of industries and environments.
The uniform design allows the assembly to be bolted to the floor or structural support and the tank without requiring additional mounting plates, load buttons, safety stops or attachment hardware for checking.
The Duramount 7-S3 is available in stainless steel.
Brochures
Applications
Powder & Bulk Processing
Medium to High capacity Tanks & Hoppers
Food & Beverage Handling
Mixing, Blending & Batching
Level & Inventory Control
Hostile Environment
Dimensions
Capacity
L"
L1"
L2"
L3"
W"
W1"
W2"
W3"
H"
H1"
H2"
D
Dia.
d
Dia.
1K, 1.5K, 2K, 2.5K, 4K,5K
9.25
6.25
4.00
2.75
5.00
3.75
4.00
2.75
5.13
0.50
0.50
0.56
0.56
10K, 15K, 20K, 25K, 35K
12.00
7.50
8.00
6.00
8.00
6.00
8.00
6.00
7.90
0.75
0.75
0.81
0.81
50K, 75K
16.25
11.50
9.00
6.50
12.00
9.50
9.00
6.50
9.30
1.00
1.00
0.81
0.81
For capacities 100K, and 125K request model Duramount 7 Weighing Assembly.
Installation
Figures 1 through 4 illustrates the preferred orientation of a double ended shear beam when installed under TANKS or HOPPERS. The long axis of the cell should be at a right angle to a line drawn from the center of the tank/load. Alternately the long axis of the load cell should point in line with any recurring force, such as in TRUCK SCALES.
Reviews

There are no reviews yet for this product. Write a Review
Share this page