DM-18: Tension Load Cell Weighing Assembly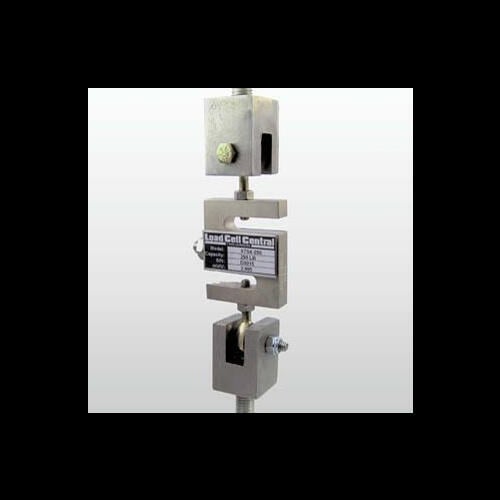 The DURAMOUNT 18, combined with the XLS family of load cells, provides a wide range of tension weighing assemblies (capacities 50,100, 200, 300, 500, 750, 1K, 1.5K, 2K, 3K, 5K, and 10K pound) suitable for scale conversions, process control, hopper and tank batch weighing. Teflon insulation, combined with a bonding strap, protects the load cell from stray ground currents and electrostatic charges. Tension loading design assures correct load alignment and is ideal for low to medium capacity hopper and tank weighing.
The DURAMOUNT 18 can be used with the LCC-XLS load cells and most standard "S" type and tension canister load cells, including: 42HT, 43HT, 62HT, 263D, 182T, USP, UMP, BSP, 363, 9363, and many others.
Brochures
Features
Capacities 50 lbs. - 10K Ibs.
Adapts threaded rod to S Cell & tension canisters
Rod end ball joints
Teflon electrical isolation
Bonding ground strap
Tension loading
Zinc plated or FDA approved epoxy painted alloy steel
Stainless Steel available
Applications
Low to medium capacity
Process control
Hopper weighing
Scale conversions
Chemical plants
Batch weighing
Tank weighing
Process weighing
Food processing
Tanks and hoppers should have the suspension hardware attached above or at the load center of gravity, providing inherent stability, and reducing the need for restraints. Horizontal check rods or bumpers should be used to prevent swaying. The suspended assembly must be self-centering to prevent alternate load paths caused by check rods or rubbing against bumpers. Suspension using a single load cell requires the use of one or more swivels or check rods to prevent errors produced by torque on the load cell. Vertical safety rods or chains must be used to prevent damage in case of overload failure.
Reviews

There are no reviews yet for this product. Write a Review
Share this page