Crane Scales and Tension Link Load Cells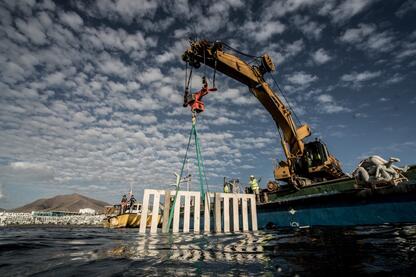 Crane & hoist scales are a necessary and crucial component in a wide range of construction and industrial weighing and lifting applications.These applications often impose conditions that do not lend themselves to standard load cells.
Since these applications have widely varying physical designs, capacities, and performance requirements, it's important to find the appropriate crane scale or load cell scale system for the job.
To determine the best fit for your application, a good place to start
is our section on Load Cells in Crane & Hoist Weighing Systems.
When it comes to getting the specific load cells required for your industrial weighing application, it pays to have a trusted source for top-quality products and services. At Load Cell Central, we call on our over three decades in the industry to manufacture a complete line of crane scales and tension link load cells to meet your needs. In addition to an extensive range of out-of-the-box solutions, we excel at providing custom crane scale and tension link load cell services. Contact us now for more information.
Read more on selecting the right crane scale...
Crane Scale & Tension Link Selection
Crane Scales for Low and Medium Duty Applications
For construction or industrial applications calling for low to medium duty capacity, our CSM series is the high quality, durable and dependable solution you're looking for. Our 10AT and 15AT crane scales can handle capacities ranging from 220 to 44,000 pounds — they feature versatile portable and rechargeable models that present an efficient solution for budget applications. Features also include bright LED displays for indoor/outdoor reading of weights, excellent weighing performance, lb/kg selectability, auto shutoff, and safe overload of 120% of full scale.
Crane Scales for Heavy-Duty Applications
When it comes to construction applications calling for greater capacity, rugged durability and indoor/outdoor use in harsh environments, our WL-CTL2 wireless crane scale/tension link load cell and DCL10 tension link load cell/crane scale answer the call. Our standard crane scales are capable of handling loads up to 200,000 pounds, and they can also be custom built to meet diverse industrial weighing requirements. Perfect for heavy-duty weighing and lifting applications, you can use crane scales in applications with cranes, hoists and winches, lift testing, towing tension, cable tension, hoist scales and tensile testing systems.
Underwater and Overload Limiter Load Cell Crane Scales
The UWTL crane scale series is specifically designed for underwater use in 5,000-meter depths and beyond. The series can also be custom built depending on capacity dimensions, output, cable length and internal signal requirements.
The DLWS crane scale features a wire rope clamp-on load cell for cranes and hoists, which detects overload conditions and employs a digital indicator to provide relay outputs.
Load Cell Central is an industry leader with the broad capabilities to give your business a competitive advantage. As the designer, manufacturer and seller of crane scales and tension link load cells, we offer the high quality you need at a price you can afford. Our skilled technicians utilize state-of-the-art equipment and techniques to provide load cells that meet your exact system requirements.
Load Cell Central takes the worry out of purchasing crane scales and tension link load cells. We'll accurately assess your needs and prescribe the most effective and efficient solutions for your industrial weighing applications. We respond quickly to find the products you need, and we'll get them to you fast in order to maximize productivity.
With superior customer service, dedicated ongoing support and complete repair, calibration and gauging services, Load Cell Central is an affordable source for link load cells, crane scales and more.
What is the accuracy of a crane scale?
One of the most important features of crane scales, whether they are crane-mounted or portable, is accuracy. A crane scale can be used to weigh anything from aircraft components to small mail packages. In order to make sure that your crane scale accurately measures the weight of your load, you'll need to know exactly how accurate they are. While no weight measurement device can ever be 100% accurate, there are some standards that all reputable crane scales must meet in order to be considered accurate enough for use on a construction site or in a factory setting.