Industry Leading Load Cell Supplier
Launched in 1985, Load Cell Central is a comprehensive source for load cells, weighing assemblies and custom weighing systems. As a leading load cell supplier, Load Cell Central carries numerous load cell products, providing customers with a full range of options for their industrial weighing and force measurement applications. Load Cell Central has extensive experience in designing, manufacturing, maintaining and repairing load cells and related weighing components.
Load Cell Central is one of the few load cell suppliers that offers stock and custom-designed hardware, accessories and electronics for industrial weighing systems. These products include low to high capacity load cells, scales, process controls, electronic displays, mounting assemblies and more.
Choosing the correct load cell is integral to developing a high-performance industrial weighing application. At Load Cell Central, we carry thousands of types, capacities and models of load cells, while providing custom solutions for unique applications. As one of the largest load cell suppliers, our selection ranges from low and high capacity cells to submersible load cells, low-profile load cells and miniature products.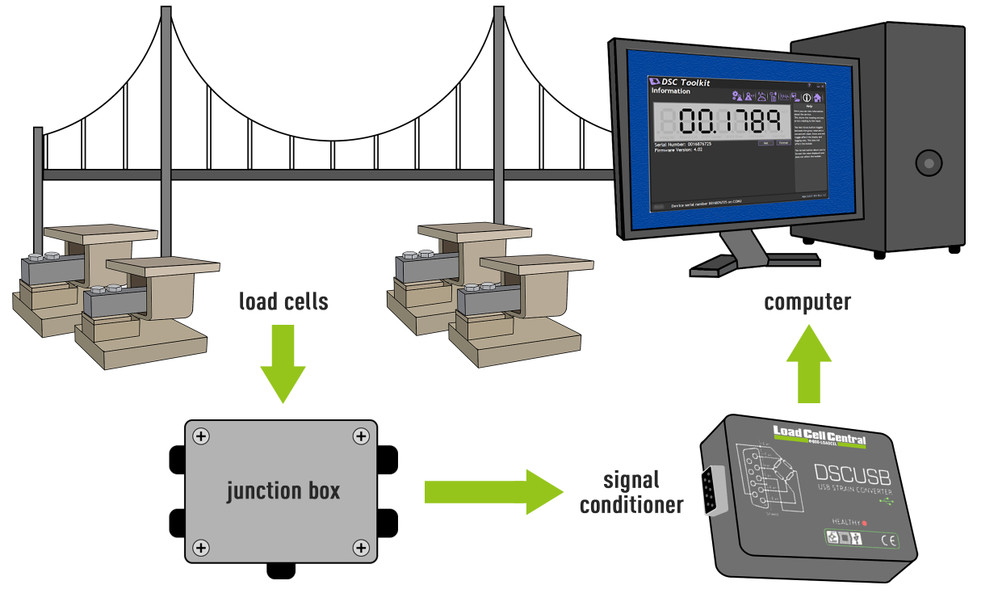 Load Cell Capacities & Their Uses
Low capacity load cells are designed for sensing loads ranging from 25 grams to 150 pounds. These load cells are ideal for medical testing, wind tunnel testing, checkweighing and other weighing and force measurement applications requiring precise, sensitive measurements.
Medium-range load cells, between 200 and 20,000 pounds, are ideal for mid-level industrial applications such as bolt force measurement, industrial scale systems and platform scales.
Our high capacity load cells are for the most demanding industrial weighing applications for capacities between 25,000 and 1 million pounds and up. These load cells are widely in use in pile testing, mooring testing, marine towing, railroad and motor truck weighing, concrete batch plants and destructive and non-destructive laboratory and field testing.
Our commitment as a comprehensive load cell supplier means that we provide the electronic displays, accessories and planning necessary for implementing your industrial weighing systems, and that we are standing by your side before, during and after the sale with customer support that is both prompt and seasoned with experience.