Taking Accurate Measurements with Strain Gauge Load Cells
Why Strain Gauge Load Cells
Strain gauge load cells are the predominant device used in industrial weighing and force measurement that will consistently and economically deliver a high degree of accuracy. Strain gauge load cells continue to improve in terms of sensitivity and responsiveness, making these products the preferred option for a variety of industrial weighing and testing applications. Strain gauging within a load cell is usually more convenient and cost-effective than direct placement of gauges on mechanical components and allows for easy installation of the sensor directly onto machinery or automated production equipment for more accurate measurements of weight and force.
How They Work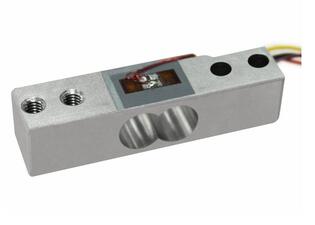 Load cells measure weight and pressure by converting mechanical force into an electrical signal. When bolted to a structural beam or an industrial machine part, a strain gauge load cell senses the strain on the part that occurs as a result of the force applied.
Typically, four or more strain gauges are used in each load cell to provide maximum sensitivity, along with special components to compensate for temperature fluctuations. As force is applied to the load cell, and the cell and special bonded strain gauge resistors within it are deformed, the load cell converts the mechanical force into an electrical signal which is sent to signal conditioners, computers or recorders.
Choose Load Cell Central
Load Cell Central designs and produces strain gauge-based load cells for a range of capacities, applications and industries. Because load cells and bolt-in-place weighing modules can be efficiently installed directly onto equipment, they are frequently utilized by industrial customers who require maximum precision and accuracy in their weighing applications.
Load Cell Central has provided strain gauge load cells and strain gauged mechanical components for applications ranging from rocket engine thrust-testing mounts to sailboat masts to drive shafts to automated production processes. Our team can help you select the ideal "from stock" load cells to match your requirements, or work with you to develop customized solutions.
Browse our selection of strain gauge load cells to view product specifications, request a quote online, or simply call and chat with one of our friendly, experienced sales technicians. Load Cell Central provides comprehensive support and assistance over the phone or via our website.